Xircom REM56G-100 PCMCIA RealPort 10/100 LAN + 56k Modem Combo PC Card NEW Box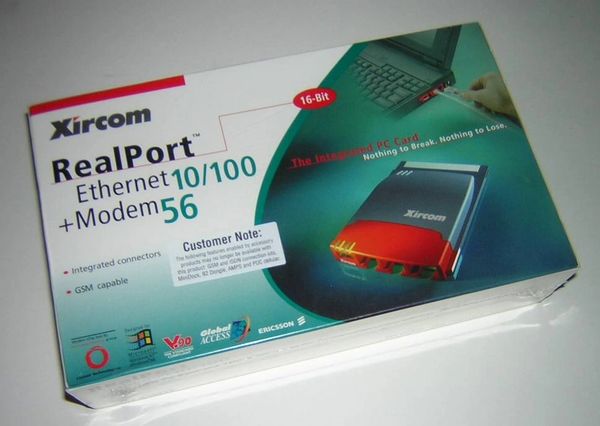 Xircom REM56G-100 PCMCIA RealPort 10/100 LAN + 56k Modem Combo PC Card NEW Box
Powerful and easy-to-use combination Fast Ethernet and 56k Data-Fax modem adapter in a dual-slot PCMCIA card. The integrated jacks for standard ethernet cabling and phone cabling make it so simple to use, no dongle cables to lose or break!
Complete retail kit in sealed manufacturer box including:
PCMCIA card
Telephone line cord
Software

Use documentation
The 16-bit RealPort Ethernet 10/100+Modem 56 combines the highest performance 10/100 Mbps Ethernet, 56K modem, GSM, AMPS cellular, and ISDN connectivity, in a single cable-free Integrated PC Card solution. GlobalACCESS features make it easy to connect to information from any location, anywhere in the world. This power-saving adapter features BatterySave advanced power management for longer battery life. The revolutionary RealPort Integrated PC Card family solves the number one problem mobile users experience with PC Cards today - lost, forgotten, or broken cable connectors and broken pop-out jacks. Patented RealPort Integrated PC Cards provide robust and reliable communications by integrating connectors directly into the card. With RealPort Integrated PC Cards, there are no cables and no hassles. Connecting to information in the office or on the road has never been easier.
Features/Specifications:
Compatible with Portable PCs using two stacked Type II or Type III PC Card Slot
Integrated LAN, Modem, Telephone handset pass-thru, and
GSM and AMPS cellular connectors


Uses standard RJ-11 and RJ-45 cables (not included)
Supports 10Mbps and 100Mbps Ethernet networks
Supports Modem Speeds up to 56K v.90
Supports Fax Speeds up to 14.4K v.17


Ethernet Standards

IEEE 802.3 for 10Base-T
IEEE 802.3u for 100Base-TX
10/20Mbps full-duplex (100/200Mbps full duplex)



LAN and Modem LEDs provides status information at a glance

Transmission Activity (yellow)
Link Integrity (green for 10Base-T)
Link Integrity (orange for 100Base-TX)