Xircom CardBus 10/100 Ethernet LAN+Modem 56k PC Card CBEM56G-100 with Dongle Cables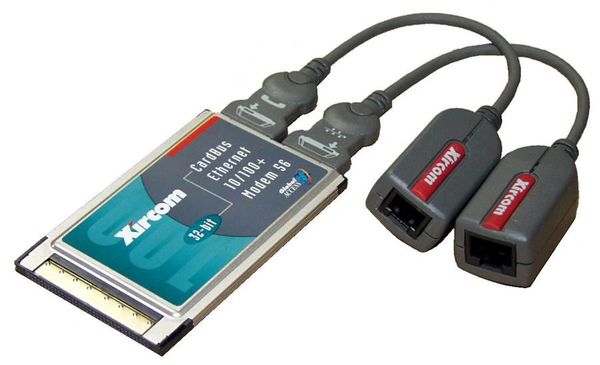 Xircom CardBus 10/100 Ethernet LAN+Modem 56k PC Card CBEM56G-100 with Dongle Cables
Powerful  combination Fast Ethernet and 56k Data-Fax modem adapter in a single-slot PCMCIA card. 
Complete retail kit in manufacturer box including:
PCMCIA card
LAN and phone dongle cables

Telephone line cord
Software

Use documentation
The 32-bit CardBus Ethernet 10/100+Modem 56 combines the highest performance 10/100 Mbps Ethernet, 56K modem, GSM, AMPS cellular, and ISDN connectivity, in a single Integrated PC Card solution. GlobalACCESS features make it easy to connect to information from any location, anywhere in the world. This power-saving adapter features BatterySave advanced power management for longer battery life.

Features/Specifications:
Compatible with Portable PCs using CardBus capable Type II or Type III PC Card Slot
Iupports 10Mbps and 100Mbps Ethernet networks
Supports Modem Speeds up to 56K v.90
Supports Fax Speeds up to 14.4K v.17
Ethernet Standards

IEEE 802.3 for 10Base-T
IEEE 802.3u for 100Base-TX
10/20Mbps full-duplex (100/200Mbps full duplex)