Xircom CardBus RealPort2 56k Modem PC Card R2BM56WG NEW in Box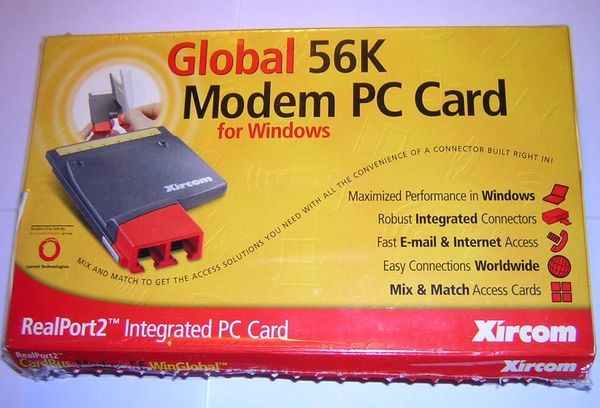 Xircom CardBus RealPort2 56k Modem PC Card R2BM56WG NEW in Box
Easy-to-use 56k Data-Fax modem adapter in a dual-slot CardBus PC Card. The integrated jack for normal phone cable makes it so simple to use, no dongle cables to lose or break!
Mix & match with other Realport2 PC Cards - Ethernet, ISDN, etc. all of which provide their own full size cable jack!
Your laptop needs to have CardBus slots to use this card, it does not work in non-CardBus PCMCIA slots.
Unsealed retail package containing:
RealPort2 CardBus modem 56 WinGlobal
RealPort2 cover (for optional use)
Software
quick reference guide
Xircom CardBus RealPort2 56k Modem PC Card R2BM56WG
With Xircom's RealPort 2 CardBus Modem 56 WinGlobal you don't have to worry about lost cables or broken pop-out jacks. The connectors are built right in, so there's nothing to break, lose or forget. That means no hassles when connecting to the information you need anytime, anywhere. RealPort2 CardBus Modem 56 WinGlobal offers you a wide variety of ways to expand. You can add Ethernet LAN, wireless data access via your mobile phone, ISDN and more by simply mixing and matching any combination of cards to meet your requirements now and in the future. Reliable. Easy. Flexible. You get it all with Xircom's RealPort2 CardBus Modem 56 WinGlobal!
Specifications:
Xircom part number R2BM56WG
Interface: PC Card, CardBus
Downstream Speed: 56 Kbps
Analog Modulation Protocol: ITU V.34, ITU V.32bis, ITU V.32, ITU V.22bis, ITU V.22, ITU V.90, ITU V.21, Bell 212A, K56Flex, ITU V.34bis, Bell 212
Fax Standards: ITU V.17, ITU V.29, ITU V.27ter
Fax Transfer Rate: 14.4 Kbps
Error Correction Protocol: ITU V.42 (LAPM), MNP-4, MNP-3, MNP-2
Data/Fax/Voice Compression: ITU V.42bis, MNP-5
Driver Download
downloadcenter.intel.com - Windows* 95 OSR 2.x, Windows* 98, Windows* 98 SE, Windows* Me, Windows NT* 4.0, Windows* 2000