Skil Flexi-Charge System Twin 3.6V Battery Charger with Cradle for 2040 2072 2207 2211 2236 2237 2273 2454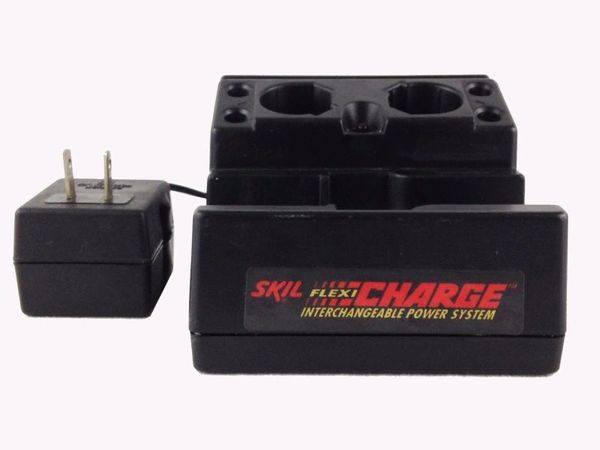 Skil Flexi-Charge System Twin 3.6V Battery Charger with Cradle for 2040 2072 2207 2211 2236 2237 2273 2454
Skil Flexi-Charge Twin Power Pack Battery Charger consists of a compact charging unit that plugs into the wall socket via a transformer on a cord, with dual ports for Flex-Charge batteries, and charging LED. Unit has a slot on back for wall mounting and four bit holders as well.

Charger is suitable for Flexi-Charge batteries used with Skil power drills and screwdrivers, and particularly models with two batteries such as 2072, 2236, 2237, and 2273. This model has a cradle for charging Skil cordless screwdrivers such as models 2207 and 2211.
Read This Before Purchasing This Charger
The charger you are replacing could have been burned out by a bad battery -- an internally shorted battery will overheat and melt down the wall transformer of this charger. A bad battery will melt down a new charger just as easily. Please follow the instructions at the bottom of this listing to test your battery before attempting to fully charge it.
Features
For use with all Skil Flexi-Charge products
Recharges battery in 3 hours
LED indicates charging in process and that unit is functional
BATTERY TESTING INSTRUCTIONS w/ Voltmeter
Battery Test, (by USER), with a VOLT-OHM Meter:
Take a reading on your Battery in question in DC volts. Write down the reading.
Place battery in A KNOWN GOOD CHARGER for 3 to 5 minutes.
Take another reading on the battery, IF it is NOT up to the rated voltage of the battery, It IS INTERNALLY SHORTED, AND SHOULD NOT BE CHARGED FOR THE RECOMMENDED TIME. It will melt down a new charger. It needs to be replaced.
EXAMPLE:
A Bosch 18.0 volt battery reads 10.5. After 4 minutes of charging on a GOOD Charger, it now reads 11.6.
THIS BATTERY IS BAD AND SHOULD BE REPLACED, AND IS OF NO FURTHER USE OF ANY KIND. (Will burn up any good charger.)
The same type of battery, if after 4 minutes on charger, reads 18.0 volts. BATTERY IS GOOD TO USE.
BATTERY TESTING INSTRUCTIONS w/o Voltmeter
Take a known good or new 3 Hr. Charger such as the Skil 92370, 92490, 92590 or 92990 (1 Hr. Smart Chargers such as the Skil 92913, 92991 or 92910 can detect a bad battery and not try to charge it).
Start charging the battery in question while at the same time monitoring the temperature of the battery and charger or charger transformer.
If the battery or transformer is approaching a temperature that is too hot to touch remove it from the charger or power source as soon as possible. This battery is causing the charger to heat up too much and will damage the charger. Please dispose of this battery properly.
Usually this will happen with the first couple of minutes but do monitor it carefully for the first charge cycle of each battery..
If the battery / charger gets warm but not hot the battery is OK and should fully charge in about 3 hours.
Instructions provided by: Robert Bosch Tool Corporation, Houston, Texas.