Linksys PCMCIA Ethernet LAN Combo PC Card EC2T with Dongle Cable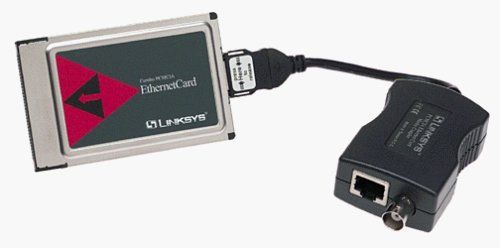 Linksys PCMCIA Ethernet LAN Combo PC Card EC2T with Dongle Cable
Included:
  Linksys EC2T PCMCIA card
  Genuine Linksys combination 10BaseT / 10Base-2 dongle cable

Features
PCMCIA Type II Compliant
Fully IEEE 802.3 Compliant
16KB Ring Buffer for Fast Data Transfers
128KB Flash RAM for Quick Configurations & Upgrades
 Extensive Use of VLSI & SMT for Reliability
The Combo PCMCIA EthernetCard comes with everything needed to get up and running with your network software fast! Because it supports all major PCMCIA driver libraries, the EthernetCard can be recognized, initialized, and ready to go only seconds after you slide it into your PC's PCMCIA slot. It's fully software-configurable, which means there are no jumpers or switches to set. And because it's both Novell NE2000-compliant and Windows 98 Plug-and-Play compatible, you'll never have to worry about finding the right network driver, it's guaranteed to run seamlessly with your network software.
Housed in a road-tested, stainless steel shell, the Combo PCMCIA EthernetCard includes a 128 KB flash RAM for quick upgrades, 16 KB ring buffer for fast file transfers, and an auto-sensing media coupler with both 10BaseT and thin coax ports on board. For a quick network connection that's both portable and easy-to-use, major industry publications like Windows Sources and PC Magazine agree: few PCMCIA network adapters can match the EthernetCard's incredible price-and-performance ratio