EA Sports NBA Live '98 Windows PC CD-ROM Game + User's Guide (1998)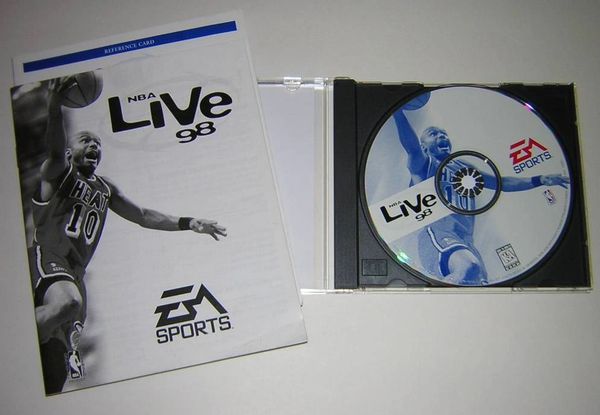 EA Sports NBA Live '98 Windows PC CD-ROM Game + User's Guide (1998)
The original award-winning game NBA Live '98 from EA Sports. This game is vintage 1998 and so was designed for Windows 95/98. It may run on other versions of Windows with the proper configuration, but that is not warranted.
Auction includes CD-ROM and manuals.

Detailed item info
Product Information
EA's acclaimed basketball franchise returns to the computer platform with updated rosters, teams, and schedules from the 1996-97 season. A key addition over previous installments is its "direct passing" feature, allowing players to throw to a specific athlete instead of a general area. Other enhancements include new user-controlled dunks and the ability to perform crossover dribbles to elude defenders. The four returning play modes are exhibition, season, playoffs, and multiplayer.
NBA Live 98 introduces two additional modes: general manager and three-point shootout. The former supports custom leagues and teams, while the latter is a long-range scoring event with a time limit. The game's presentation is similar to NBA Live 97, with motion-captured, 3D graphics and a TV-style atmosphere featuring dynamic camera angles and statistical overlays updated throughout each quarter. Veteran broadcaster Verne Lundquist provides the play-by-play commentary.
Product Identifiers
GameNBA Live 98MPN014633078398UPC014633078398
Key Features
PlatformPC
Tech Details
Control ElementsGamepad/Joystick, Keyboard, MouseNumber of Players1-2Release Year1998Game Special Features
Tight controls for dunking and passing


Play in GM mode and choose franchises, trade and draft players, and play custom seasons


Four levels of play


Game SeriesNBA Live Series