Data Translation DT3818 DSP-Based Fulcrum Delta Sigma Acquisition I/O Board ISA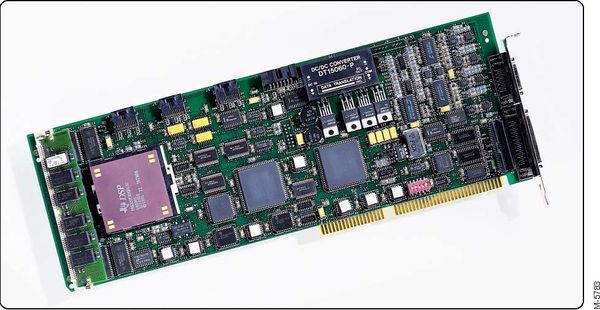 Data Translation DT3818 DSP-Based Fulcrum Delta Sigma Acquisition I/O Board ISA
Data Translation DT3818 "Fulcrum" data acquisition and control board for ISA bus, from 1992. This high performance board incorporates a TI 320C40 DSP and simultaneous sample and hold delta-sigma A/D converters. Specs are below.

Board only, no cables, software, manuals, etc. are included.

If you purchase two Fulcrum boards from me I will include the interconnect ribbon cables which enable the two boards for synchronous data acquisition.
Fulcrum Delta Sigma DSP-Based Data Acquisition System
Fulcrum™ Delta Sigma is an intelligent data acquisition system optimized for the highest performance, real-time data acquisition and digital signal processing applications. A unique architecture that tightly couples delta-sigma A/D and D/A converters to a Texas Instruments TMS320C40 (C40) DSP engine allows simultaneous data collection and analysis, A/D, D/A, and host communications. Applications that require high throughput and computationally-intensive measurement, control, or analysis are now straightforward and easy. Fulcrum Delta Sigma models feature interconnection to other boards for synchronization and data sharing.