Accurite Travel Floppy PCMCIA External FDD Drive Kit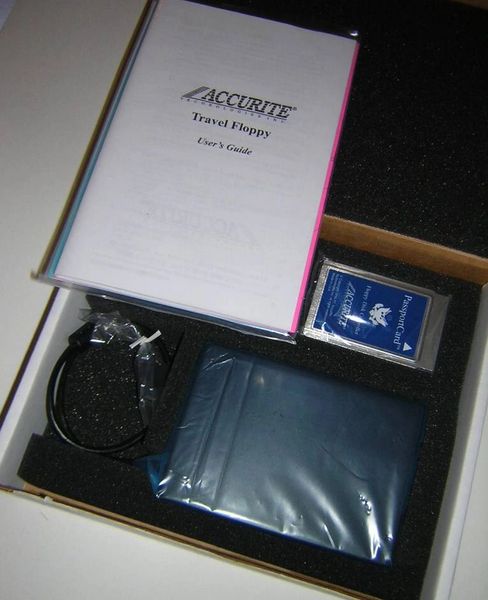 Accurite Travel Floppy PCMCIA External FDD Drive Kit
Accurite Travel Floppy 144 with PassportCard
controller. This is a PCMCIA controlled external floppy drive.
This is the only floppy drive that will boot the ITRONIX XC6000/XC6250/XC6250Pro series ruggedized laptop computers.
  This is a complete kit including:
Accurite Travel Floppy 144 external floppy drive
Accurite PassportCard PCMCIA card with cable
Passport Card Diskette with driver and Utility pack
Printed user manual.
Drive will work with other laptops with a PCMCIA slot, though not as a boot drive. For it to be used as a boot device, the laptop's BIOS must support it.
This item is new in original Accurite/Itronix packaging and warranted non-DOA.

Retail price for this item: $259
Travel Floppy™
PCMCIA Floppy Storage Subsystem
Autolighter Adapter Now Available
Compactly designed, the Travel Floppy Storage Subsystem brings to the mobile computing environment a quick and economical means of moving data to or from diskette through the PC Card slot.
The Travel Floppy can be connected to virtually any MS-DOS, Windows 3.x, Windows 95/98/ME, Windows 2000 and NT 4.0 compatible notebook, subnotebook, or palmtop by simply inserting Accurite's custom floppy disk controller, the PassportCard™. The PassportCard is a PCMCIA Type II form-factor card meeting release 2 of the PCMCIA standard.
Convenient to use, users can hot swap the Travel Floppy as needed, and move files to or from a floppy without interrupting their work in progress or requiring exiting the software currently in use. The Travel Floppy can be powered from notebook and subnotebook computers through the PC Card slot, or by the AC adapter for systems with less battery power, like palmtops. With the Travel Floppy, the task of transferring files or making backup copies is simple and inexpensive - and no different than working with the familiar desktop computer.
Small, sleek, very lightweight and yet durable, the Travel Floppy is equally vital whether its primary home is on a desktop for uploading and downloading files or it travels out on the road and is used in the field. Very portable, the Travel Floppy is easily shared amongst several users in an office.
For HP Palmtop users, the Accurite DoubleSlot™ allows the expansion of the Palmtop's single PCMCIA slot to two slots. The Travel Floppy and other PC Card products can then be used simultaneously with the Palmtop.
Accurite Travel Floppy™ Specifications
PassportCard
™
(PC Card) PCMCIA release 2.10. Type II physical format.
Physical
Weight    9.9 oz. (281 g) Dimensions .59 x 3.9 x 5.5 inches (15 x 10 x 140 mm) Color Black
Platforms Supported
Windows Millenium
Windows 98
Windows 95
Windows 2000
Windows NT 4.0
MS-DOS 6.2 (Win 3.x)
Power Requirements
+5 volts supplied by either the PassportCard or the AC adapter