3Com Megahertz PCMCIA 10/100 LAN+56K Modem PC Card with Dongle Cables 3CCFEM556B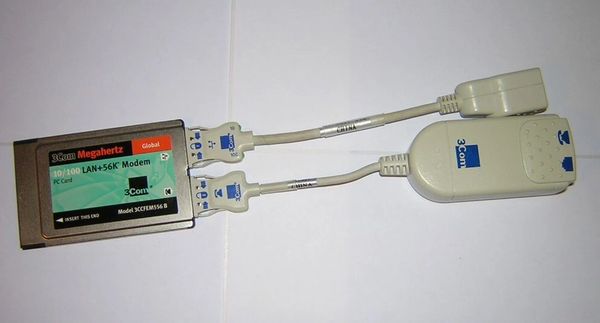 3Com Megahertz PCMCIA 10/100 LAN+56K Modem PC Card with Dongle Cables 3CCFEM556B
Powerful combination PCMCIA modem/LAN adapter from 3Com.
This card packs two powerful conection types in one card. Connect to your home DSL or cable modem service through the LAN connection, and use the modem for dialup access while on the road!
This card requires a Type II PC Card slot.
Drivers are included with Windows 2000 and later, drivers for other OSes can be downloaded from 3Com's web site.
Reliable Connections the World Over
Get fast, reliable LAN and modem access for any 16-bit notebook PC. Whether you're working from your office, at home, or on the road, this Type II PC Card is the simple way to stay connected virtually anywhere in the world. Direct Connect Cellular lets you send and receive faxes, e-mail, and other data over select AMPS cellular phones.
Parallel Tasking® technology delivers superior Ethernet and Fast Ethernet throughput
Exclusive Line Probing technology helps ensure fast, reliable V.90 56K modem connections
Configure LAN and dial-up connections with a click of the mouse
Connect with ease the world over using WorldPort® country selection software
Intelligent Auto Install and plug-and-play operation simplify installation
Nway 10/100 auto-negotiation helps ensure trouble-free moves from 10 to 100 Mbps
Direct Connect Cellular provides wireless fax and data access over select AMPS cellular phones
Product Specifications
Media: 10BASE-T and 100BASE-TX
Modem speeds: Downloads up to 56 Kbps with V.90 technology, V.34+
Bus type: 16-bit PCMCIA
Connectors: 10/100BASE-TX cable connector and modem connector cable
Network operating systems supported: Novell NetWare, Microsoft LAN Manager, Microsoft Windows for Workgroups, IBM LAN Server, HP LAN Manager, Banyan VINES, Artisoft LANtastic, and other popular network operating systems
Software drivers: Windows 2000 NDIS 5/98/95/NT NDIS 3 and NDIS 4; DOS ODI, DOS NDIS 2