3Com 11 Mbps 802.11b Wireless LAN PCI Card 3CRWE777A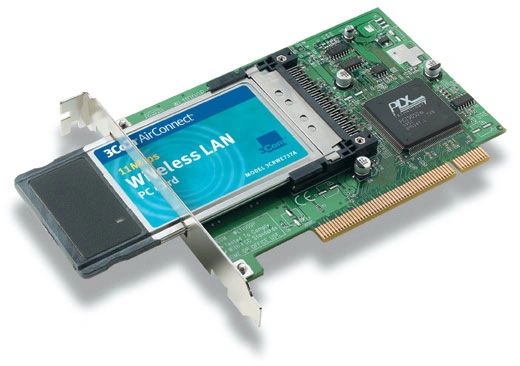 3Com 11 Mbps 802.11b Wireless LAN PCI Card 3CRWE777A
Support information can be found on 3Com's web site.

Features, Benefits & Specifications

Simple Network Connectivity for Desktop PCs
Get simple network connectivity for your desktop PCs without wiring limitations. Working with Wi-Fi–certified wireless LAN access points and gateways, these PCI cards let you add new users or reorganize spaces without running cables, provide flexible network access in constantly changing spaces, and gain access in previously hard-to-wire locations.

Load balancing helps ensure reliable access to network services and optimal data rates
Dynamic rate shifting helps ensure connectivity even at long range or in noisy environments
DHCP support enables clients to get quick, seamless connectivity to the network
40-bit and 128-bit WEP encryption allows you to exchange information in full
Supports ad hoc networking between notebooks and desktops equipped with PC Cards or PCI adapters
Supports most popular operating systems including Windows 2000, 98, and 95
Wi-Fi certification ensures multivendor interoperability
Product Specifications


Bus type: 32-bit PCI
Drivers: Windows 2000/98/98 SE/95B/NT 4.0 with Service Pack 4 or 5
LAN speeds: 1, 2, 5.5, and 11 Mbps
Protocols supported: TCP/IP, IPX/SPX, NetBEUI, DHCP, 802.11b
System Requirements

Desktop PC with an available 32-bit PCI card slot
Desktop PC must be running Windows 2000/98/95/NT 4.0