3Com® 10/100 LAN+56K Modem Mini PCI Card 3CN3AC1556B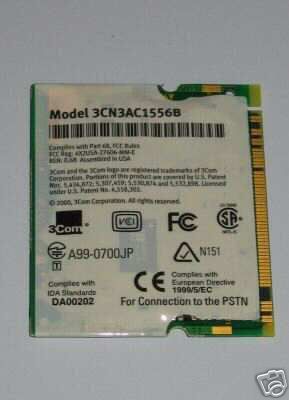 3Com® 10/100 LAN+56K Modem Mini PCI Card 3CN3AC1556B
Powerful combination PCMCIA modem/LAN adapter from 3Com.
This card packs two powerful conection types in one card! You can connect to your home DSL or cable modem service through the LAN connection, and use it for dialup access while on the road!
Your laptop does need to have a mini-PCI slot to use this card - check the laptop specifications before purchase.
Drivers are included with Windows 2000 and later, making this card truly Plug-n-Play! Drivers for other OSes can be downloaded from 3Com's web site.
Features & Benefits

Superior LAN and modem connections without sacrificing a PC Card slot
Top LAN and modem features including fast transfer rates and downloads are built into this Mini PCI card. It installs in the Mini PCI slot on the back of many of the latest notebooks, leaving PC Card slots free for wireless LAN, Bluetooth™, or other peripherals.
Product Specifications
Media: 10BASE-T and 100BASE-T
Modem speeds: Downloads up to 56 Kbps with V.90 technology, V.34+
Software drivers: Windows Me/2000/98/98 SE NDIS 5/95 OSR2.x/NT 4.0
Network operating systems supported: Novell NetWare, Windows 2000/98/95/NT 4.0, Microsoft LAN Manager, IBM LAN Server, HP LAN Manager, and other popular networks
Management: SNMP-manageable
System Requirements
Compatible notebook computer with a Mini PCI card slot and 8 MB of RAM (16 MB of RAM for Windows NT 4.0) running Windows Me (WDM)/2000/98/95 OSR2/NT 4.0, or DOS.