3Com Megahertz PCMCIA Ethernet LAN PC Card with XJACK 3CXE589EC NEW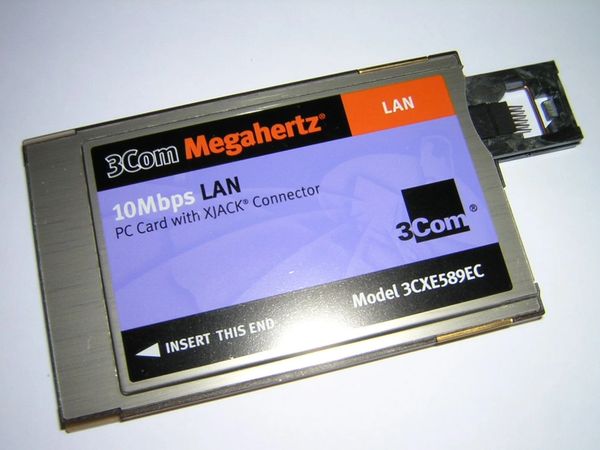 3Com Megahertz PCMCIA Ethernet LAN PC Card with XJACK 3CXE589EC NEW
3Com PCMCIA LAN adapter. The retractable XJACK connector makes this card so easy to use, no dongle cables to lose or break!
Set up your laptop for DSL or cable modem service with this professional-grade ethernet card from 3Com. Your laptop does need to have CardBus slots to use this card, it will not work in non-CardBus PCMCIA slots.
Drivers are included with Windows ME, 2000, and XP, making this card Plug-n-Play! Drivers for other OSes can be downloaded from 3Com's web site.

High-Speed LAN Connection
Get the most performance out of your 16-bit notebook. This PC Card offers reliable, high-speed connections and advanced features to maximize throughput and simplify manageability on Ethernet and Fast Ethernet networks.
Product Specifications
Media: 10BASE-T

Bus type: 16-bit PCMCIA Type II
Connector: RJ-45 XJACK LAN connector
Software drivers: Windows Me/2000/98/98 SE NDIS 5/95 OSR 2.x, Windows NT 4.0, DOS NDIS 2.01
Network operating systems supported: Novell NetWare, Windows 2000/98/95/NT 4.0, Microsoft LAN Manager, IBM LAN Server, HP LAN Manager, and other popular networks
System Requirements
Notebook PC with a 16-bit PCMCIA Type II or 32-bit CardBus PC Card slot
Windows Me/2000/98/98 SE/95 OSR 2.x (95B or 95C)/95, Windows NT 4.0, or DOS