Star Wars: X-Wing vs. TIE Fighter PC CD-ROM Game in Original Retail Box (1997)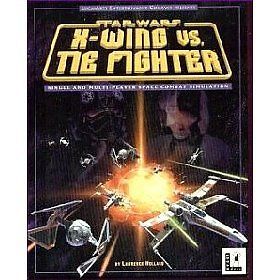 Star Wars: X-Wing vs. TIE Fighter PC CD-ROM Game in Original Retail Box (1997)
The original award-winning game Star Wars: X-Wing vs. TIE Fighter in hard-to-find original retail box.

This game is vintage 1997 and so was designed for Windows 95. It may run on other versions of Windows with the proper configuration, but that is not warranted.

Sale includes CD-ROM, manuals, and other materials shown in photo.

Items are in excellent condition, UPC code is removed from box, but otherwise it is pristine.
Description
The most eagerly awaited, multi-player space combat simulator is here. Now you can prove your mettle in challenging real-time dogfights of 2 to 8 players over a modem, network or the Internet in the epic Star Wars saga. Fly over 50 combat missions in 9 meticulously enhanced Star Wars starfighters with or against your friends. Or engage in melees, taking on all rivals, to determine once and for all who is the greatest starfighter pilot in the galaxy. The power of the Force resides in the most skilled and daring pilot. Choose your craft and choose your weapons, but most of all, choose your wingmates very carefully. Your life may depend on it!
Detailed item info
Product Information
"A long time ago, in a galaxy far far away..." is the mantra of the famous original Star Wars trilogy. The main emphasis in Star Wars: X-Wing vs. TIE Fighter is the space-based dog fighting in that far away galaxy -- part of the reason for the series' success. As you begin the many missions of the game, you're introduced to the fighting abilities of your ship via a training mode. After you master this aspect, you're able to move on to the battles and combat situations.
In Star Wars: X-Wing vs. TIE Fighter, you choose to be an Imperial or Rebel pilot. Either side has a variety of different ships from which to choose. In addition to the familiar X-Wing and TIE Fighters, there are a few more spacecraft available that might not be as well known. Fly solo and take on the Imperial Empire or Rebel Alliance by yourself or join a game over the Internet to compete in dog fights with others! You can also host your own game and wait for other gamers to join you.
The two factions each have separate missions. After choosing which side to play, there are five different options: Exercise, Melee, Tournament, Combat and Battles. Exercise takes you on training missions to hone your skills prior to engaging in battles. Melee combat simulations are designed as arenas in which pilots test their abilities against one another. This mode supports one player or up to eight in multi-player mode. Tournaments combine three or five melee missions and are designed to find the greatest all-around pilot. The pilot or team that scores the most points wins, just as in melee combat. If you're more interested in the missions depicted in the Star Wars movies, Combat mode fits the bill. It follows the original situations where the Rebel Alliance is up against the Imperial fleet in certain missions. These are single missions that include hit-and-fade attacks, raids, convoy escorts, support of boarding operations and capital ship engagements. Lastly, Battle mode is a combination of three or four combat missions with two battles available from which to choose: Quick Strike and Imperial Fleet Operation or Clean Sweep.
The many ships available include the TIE Fighter, TIE Interceptor, TIE Advanced, TIE Bomber, Assault Gunboat, X--Wing, A-Wing, Z-95 Interceptor and Y-Wing, the latter four being Rebel ships and the other five Imperial. Every ship has basic front lasers as well as warheads, beam weapons and countermeasures. Warheads include Concussion Missiles, Advanced Missiles, Mag Pulse, Proton Torpedoes, Advanced Torpedoes, Heavy Rockets and Space Bombs. Decoy, tractor and jamming beam weapons are also available while countermeasures are either chaff or flare.
In addition to weapons control, the crafts have a plethora of shield, power, throttle, steering and wingman commands. During combat, you can adjust your speed, increase shields and direct your wingmen. In multi-player games, an option is available to communicate with gamers playing on your side.
Product Identifiers
GameStar Wars: X-Wing vs. TIE FighterMPN023272208189UPC023272208189, 023272208417, 023272208813
Key Features
PlatformPC
Tech Details
ESRB DescriptorAnimated ViolenceControl ElementsFlight Yoke, Gamepad/Joystick, Keyboard, MouseNumber of Players1-8Release Year1997Game Special Features
Challenge others to fast-paced dogfights in outer space


Fly over 50 missions in one of nine Star Wars starfighters


LAN, modem, and Internet support for multiplayer modes

,
Conquer the void of space alone or with friends in multiplayer combat through a LAN or the Internet


Glide your way through 50 combat missions as the pilot of an x-wing or TIE fighter jet


Show off your skills in such modes of play as Exercise, Melee, Tournament, Combat and Battles


Game SeriesStar Wars: X-Wing Series