Sony VAIO PCG-N505 Z505 iLink Port Replicator Dock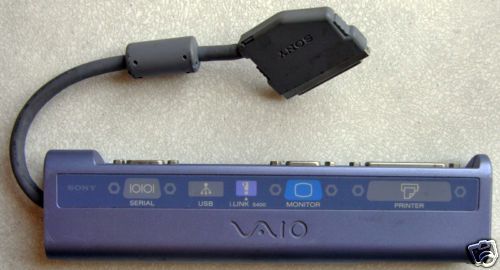 Sony VAIO PCG-N505 Z505 iLink Port Replicator Dock
External port replicator for Sony VAIO PCG-N505 and Z505 notebook computers:
This expansion unit is lightweight and easy to carry. With this adapter you can have your external monitor, printer, iLink device and mouse / keyboard all hooked up through 1 convenient connection, minimizing time and wear.
Notes: This interface lets you quickly connect your SuperSlim notebook to your desktop peripherals. It offers ports for a parallel printer, USB, i.LINK, serial and VGA monitor.

compatible with the following Models:
PCG-N505, PCG-N505, PCG-N505A, PCG-N505AS, PCG-N505E, PCG-N505EL, PCG-N505ES, PCG-N505SR, PCG-N505V, PCG-N505VX, PCG-Z505C, PCG-Z505CR, PCG-Z505D, PCG-Z505DRK, PCG-Z505DX, PCG-Z505F, PCG-Z505FX, PCG-Z505G, PCG-Z505GR, PCG-Z505H, PCG-Z505HE, PCG-Z505HS, PCG-Z505J, PCG-Z505JL, PCG-Z505JX, PCG-Z505N, PCG-Z505NR, PCG-Z505R, PCG-Z505RX, PCG-Z505S, PCG-Z505V, PCG-Z505VR