Socket PCMCIA Serial I/O Port Adapter Ruggedized PC Card R-I/O NEW in Box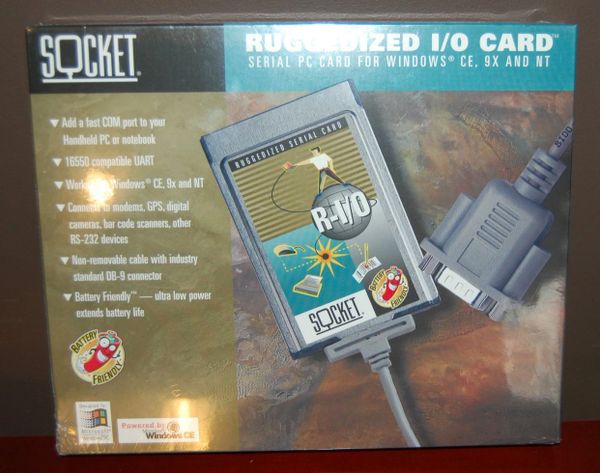 Socket PCMCIA Serial I/O Port Adapter Ruggedized PC Card R-I/O NEW in Box
Socket Serial I/O Port PCMCIA adapter. This is the ruggedized version where the connector is permanently attached to the card.
Part number of this card is 8010-00065, rev D, SKU number SL0707-078.
This item is brand new in unsealed manufacturer packaging.

Retail price of this item is $157.50. For support information see Socket's web site.

Product Description
From the Manufacturer
Give Your Mobile Computer a COM Port Running up to 921 kbps Add a high-speed RS-232 port to your mobile computer with the Socket Serial I/O PC Card or Ruggedized Serial I/O PC Card. Connect to the world of serial devices such as fax/modems, digital cameras, bar code scanners, monitoring and control systems, writers for court reporting, data collection gear, lab equipment, GPS receivers, wireless receivers and transceivers--you name it.
Want to maximize your connectivity with speeds up to 921 kbps? The S-I/O comes with Hi-Speed COM Tools and drivers that allow you to map lower baud rates to higher speeds. Plus, you can quickly identify and change COM port assignments. Baud mapping is easy with a user-friendly visual display. You can even set a custom baud rate to a higher speed such as 230.4, 460.8 or 921.6 kbps.
The card is outfitted with a "ruggedized" 17-inch cable terminating in a male DB-9 connector. The card works with Windows XP; Windows CE for Pocket PC 2000/2002/2003 and HPC 2000; Windows 95 v4.00.950B; Windows 98; and Windows 98 Second Edition.
Socket's High-Integration Serial (HIS) chip lowers chip count to improve reliability and reduce power drain. The cards use only 13 mA on average, compared to 100 mA for other serial PC Cards! Low power consumption means you can operate your mobile computer longer on internal batteries when you're off the beaten path.
Features:
Comes with the Hi-Speed COM Tools and drivers which enable users to re-map legacy baud rates to higher speeds such as 230.4, 460.8, or 921.6 Kbps.
Comes with advanced features to set custom baud rates
Provides the ability to quickly identify and change COM port assignments
One RS-232 serial ports
Includes industry standard DB-9 Connector
Provides standard 16550 compatible UARTS and compatibility with 16650, 16750 & 16950
Includes UARTS that contain 128 byte FIFO (twice the size of other solutions)
Provides hardware flow control
Comes in CompactFlash or PC card versions with Ruggedized or removable cables
Comes with Plug & Play and hot-swapping capabilities
Operates in both 3.3V and 5V Systems
Uses low power for longer battery life (typical current draw at 3.3v is 2.4mA)
Compatible with Windows 95OB/98/98SE/Me/2000/XP, Windows CE - HPC Pro 2.11, HPC 2000, and Pocket PC 2000, 2002 & 2003
Includes Limited Lifetime Warranty versus the industry standard warranty of five years