Samsung SGH-A157 Quadband GSM 3G Cell Flip Phone AT&T Black Working with Battery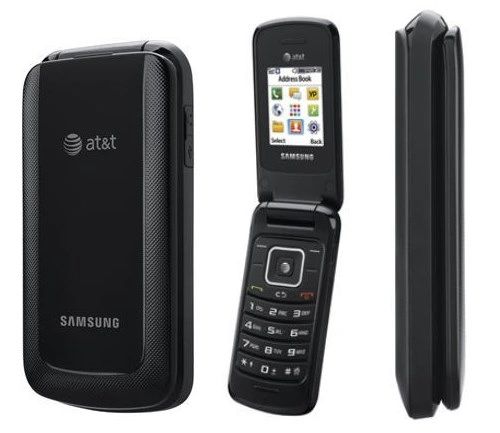 Samsung SGH-A157 Quadband GSM 3G Cell Flip Phone AT&T Black Working with Battery
Samsung SGH-157 quadband mobile phone in black color. This phone is branded AT&T and is carrier locked to them. Just insert your AT&T SIM card and go!
Phone is in good condition with scuffing on the exterior of the phone, but the interior is scuff free. The phone is warranted non-DOA.
Included with auction is a working battery. Charger is not included, but is available for $5 with purchase of phone.
Detailed item info
Product Information
This Samsung cell phone offers an easy, user-friendly way for consumers to enjoy the power of the AT&T network with 3G speed without the hassle of a long-term contract. As a prepaid GoPhone, this Samsung SGH A157 allows users to set up whatever cellular phone usage plan they would like as their usage needs change. This flip-style mobile phone is a straightforward device that is ideal for consumers who want a cellular phone without a lot of bells and whistles. The 800-mAh battery on this Samsung cell phone allows for up to five hours of talk time and up to 10 days of standby time. The clam-style design covers the buttons and controls on this Samsung and means that users will never need to worry about unintentional number dials when this mobile phone is stored in a pocket or purse. The design of this Samsung cell phone is also compact and lightweight, making the Samsung SGH A157 an easy phone to slip into any pocket or bag.
Product Identifiers
BrandSamsungMPN SGH-A157ZKAATTCarrierAT&TFamily LineSamsung SGHModelA157UPC635753497571, 887276853406TypeCellular Phone
Key Features
Storage Capacity256 MBColorBlackNetwork TechnologyGSM/GPRS/EDGEBandGSM 850/900/1800/1900 (Quadband)StyleFlip
Battery
Battery Capacity800 mAh
Display
Display TechnologyTFT
Other Features
Touch ScreenNoBluetoothYesDigital CameraNoGPSNoEmail AccessYesInternet BrowserYesSpeakerphoneNo