QUATECH Q-Lynx SSP-100 PCMCIA RS-232 Serial I/O PC Card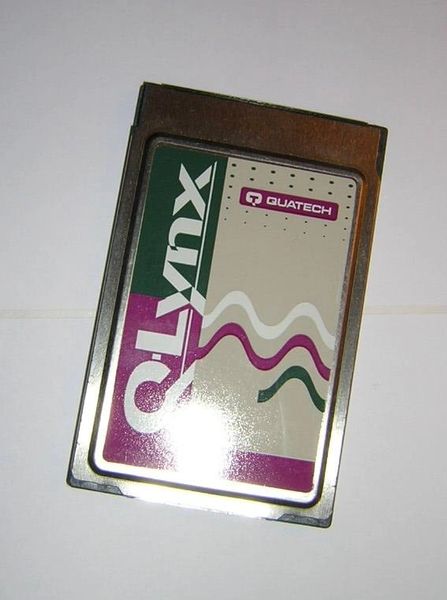 QUATECH Q-Lynx SSP-100 PCMCIA RS-232 Serial I/O PC Card
Card only, connector cable not included. Connector cables are available from
Quatech's web site
.
Retail price of this item is $129.

Quatech RS-232 and RS-422/485 asynchronous serial PCMCIA cards are an ideal solution for adding additional ports to a wide variety of portable systems. Because they share electronic fundamentals with native bus architectures such as PCI and ISA, they function exactly like standard COM ports and can be addressed as such by most application software.
Quatech serial PCMCIA cards provide industry leading speeds of up to 921.6 kbps by employing a clock multiplying feature in conjunction with 16750 UARTs. To further increase performance, we have created an auto toggle feature for the RS-422/485 transmitter that permits the hardware itself to regulate data flow by only driving lines while actively transmitting--providing increased speed and convenience over the older software controlled method.
Features
1 or 2 independent RS-232 and RS-422/485
Each port configurable as either RS-422 or RS-485
Speeds up to 921.6 kbps
Auto enable/disable of RS-422/485 transmitter
Full duplex and half duplex modes supported
Attached and detachable cable options
Low power requirements
Windows 95-XP, Windows CE, Windows Vista, Windows 7, Linux (OS/2 for Rev H and prior) support
RoHS Compliant
5 year warranty
Detailed Specifications: Serial PCMCIA Cards
Bus Interface:
16-bit PCMCIA, Release 8 & backward compliant
OS Support:
Windows CE/9x/Me/NT/2000/XP/Vista/7, Linux, OS/2
Data Rate:
SSP/DSP: 921.6 kbps (max*) learn more about max data rates
Serial Ports:
SSP:1 DSP:2
(configurable as either RS-422 or RS-485 for full or half-duplex communication. Auto enable/disable of RS-422/485 transmitter on SSP/DSP)
Serial Port Connectors:
SSP-100/200/300: Removable Cable with 1 DB-9 male (see connector pinout)
SSPR-100: Attached Cable with 1 DB-9 male (see connector pinout)
DSP-100/200/300: Removable Cable with 2 DB-9 male (see connector pinout)
DSPR-100: Attached Cable with 2 DB-9 male (see connector pinout)
UARTs:
SSP/DSP: 16750 UARTs with 64-byte FIFOs (1 per port)
RS-232 Transceivers:
SSP/DSP: 1CL 3245 or compatible
RS-422/485 Transceivers:
SSP/DSP: MAX 3076E or compatible
RS-232 Drivers:
High Level Output: +5V (min), +5.4V (typ)
Low Level Output: -5V (min), -5.4V (typ)
Transition Time (THL-TLH): 25 ns (typ)
RS-422/485 Drivers:
Differential Voltage: ±3.3V
Transition Time (TLH): 52 ns (typ)
Transition Time (THL): 60 Ns (typ)
RS-232 Receive Buffers:
Voltage Range: +25V (max), -25V (min)
Transition Time (THL-TLH): 25 Ns (typ)
RS-422/485 Receive Buffers:
Differential Input Threshold: ±0.2V
Voltage Range: -7V to +12V Common Mode Input
Transition Time (THL-TLH): 65 Ns (typ)
Environment:
Operating: 0°C to 70°C
Storage: -50°C to 80°C
Humidity: 10% to 90%
Power Requirements:
SSP/DSP compatible with 3.3V & 5V systems. See our FAQ for a list of models we know to be incompatible.
SSP: 20mA @ 5V (typ), 35mA (max)
DSP: 30mA @ 5V (typ), 45mA (max)
Size:
Type II PCMCIA Card package
Certifications:
CE, FCC Class B, RoHS