Panasonic Portable External 20x PCMCIA SCSI CD-ROM Drive with Cable Kit KXL-810a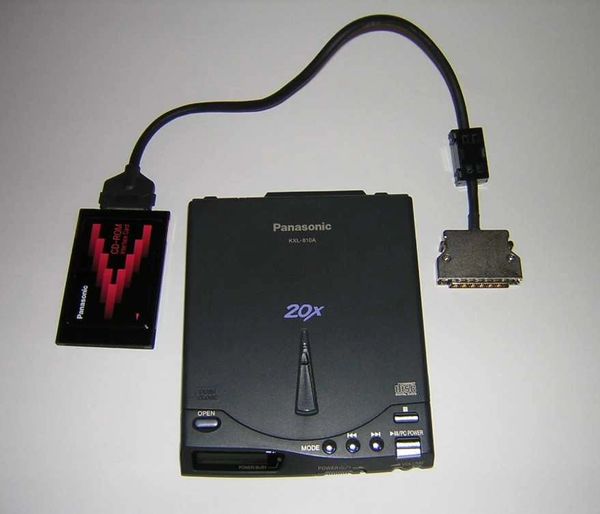 Panasonic Portable External 20x PCMCIA SCSI CD-ROM Drive with Cable Kit KXL-810a
External portable CD-ROM drive by Panasonic. Attach this drive to your laptop via the included PCMCIA card and cable. Drive is in excellent cosmetic and operational condition.
This kit includes:
KXL-810A SCSI CD-ROM drive
PCMCIA SCSI interface card
Interface cable.
This drive is supported by the manufacturer in DOS, Windows® 3.1, 3.11, Windows 95/98 and Windows NT® 3.51, 4.0. Also 3rd party drivers exist on the internet for Windows ME and 2000.
With AC adapter or battery case the drive can function as a standalone music CD player.

Detachable 4AA battery case - $20
AC adaptor - $25
Take a Spin With The Worldwide Leader In 20X (Max.) Speed CD-ROM Players
20X Speed external CD-ROM player (transfer rate Max. 3000KB/s when connected to a desktop computer using a commercial SCSI board or Max. 2700KB/s when connected to a notebook/desktop computer using the supplied interface card). *1
Operates on universal voltage AC adaptor, rechargeable battery (optional module), six (6) "AA" size alkaline batteries (optional battery case) or power from a computer (via PCMCIA Type II card slot). *2
Can be connected to a notebook/desktop computer which has PCMCIA card slot with supplied Interface card and cable.
Can be connected to a desktop computer with purchase of SCSI board and SCSI cable.
Can be connected to a Zip or Jaz drives when used with a notebook/desktop computer which has PCMCIA card slot with purchase of SCSI cable and SCSI changer adaptor.
Both CD-ROM and audio CD can be played when attached to your computer.
Can be used independently as an audio CD player.
Supports CD-ROM, CD-ROM XA, CD-DA, Photo CD (Multisession), CD-i *3, VIDEO CD *3, CD Extra.
*1) Performance will vary based on computer specifications. All performance specifications are based on use with AC adaptor. Performance is decreased (Max. 6X) when CD-ROM player is powered via PCMCIA Slot or Batteries.
*2) The ability to power the CD-ROM player from your PCMCIA Slot depends on power capabilities of your notebook computer.
*3) To playback CD-i or VIDEO CD, software or hardware MPEG decoding capability is required in the computer.
Device Driver