Palm Vx Handheld PDA with Serial Charging Cradle and AC Adapter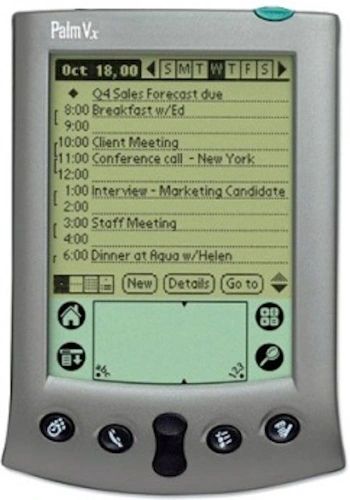 Palm Vx Handheld PDA with Serial Charging Cradle and AC Adapter
This PDA is in excellent working condition and guaranteed non-DOA.

The auction includes charging cradle with AC adapter and serial cable.
The Palm Vx is a personal digital assistant made by the Palm Computing division of 3Com. It benefited from the sleek design and low weight of its predecessor, the Palm V, while increasing the available storage to 8 MB. At 114 grams, it was one of the lightest models ever offered by Palm. Retail price at launch was US$299.
Soon after the device's release, Palm Computing was spun off to form Palm, Inc.. The Palm Vx was the first Palm device to be released without "3Com" branding.
Features
The Vx is based on the Palm V design, with the primary difference between the two being the Vx's 8 megabytes of RAM compared to the V's 2 megabytes. This was one of the last palm models not to include a memory slot. It was also one of the first to feature interaction with email, AvantGo, and other online programs.
The Vx is powered by a Motorola Dragonball processor operating at 20 MHz. It was originally equipped with Palm OS 3.3, but later models came with Palm OS 3.5. An upgrade to Palm OS 4.1 was formerly offered for sale on the Palm Website but is no longer available.
The device has a built in rechargeable battery (not replaceable unless the unit is disassembled), and a button on the top of the screen that permitted access to a contrast menu. It also includes an illumination feature, which causes the screen to be backlit by a green glow. However, the default backlight behaviour was inverted so that the text glowed while the background remained dark. This had the unfortunate side effect of making backlit pictures appear as negative images and made the display hard to read if the ambient lighting was at the same level as the backlight. The screen is very crisp and clear in bright sunlight and total darkness.
Detailed item info
Product Information
It is rightly said that big things come in small packages, as the Palm V pocket PC gives you all the computing liberties while you are traveling. Powered by 16 MHz Dragonball EZ processor, this Palm handheld software gives you speedy performance. The gold LCD screen of this Palm PDA comes with high contrast backlighting that lets you see clear graphical images. The Palm V is integrated with HotSync technology, which keeps a backup of all your important data in your desktop. With address book, calculator, date book, to-do-list enlisted, this Palm handheld software surely keeps you updated throughout the week and more. The thin stylus in this Palm PDA gives you the feel of a pen when held in your hand.


Product Identifiers
Brand
Palm
Model
V
MPN
000101000000<<T9-1>>3C80400 UK, 000101000000<<T9-1>>3C80400APAC, 000101000000<<T9-1>>3C80400EURO, 000101000000<<T9-1>>80400D, 000101000000<<T9-1>>80400S, 000101000000<<T9-1>>80400S-LA, 000101000000<<T9-1>>80400U, 000101000000<<T9-1>>81-80400EURO-STD, 000101000000<<T9-1>>81-80400F-STD, 000101000000<<T9-1>>81-80400F-STD,C390200U,F5U003F, 000101000000<<T9-1>>S80400U-10PK, 000101000000<<T9-1>>S80400U-10PK-REF, 000101000000<<T9-1>>USR-80400F-STD, 100601115648<<T9-1>>8180400FSTD
UPC
0782494441469, 0782494441735, 0782494441995, 0782494442008, 733065204556


Key Features
Product Line
Palm


Tech Details
RAM
2 MB
Installed Memory
2 MB -
Processor Type
Motorola 68EZ328 16 MHz
Operating System Provided
Palm OS 3.0
Operating System Required
Apple MacOS 7.5.3 or later, Microsoft Windows 95/98, Microsoft Windows NT 4.0
Input Method
Handwrite Recognition, Removable Keyboard, Stylus, touch-screen
Display Colors
2-bit (4 gray levels)
Display Resolution
160 x 160
Display Technology
Monochrome - 160 x 160
Battery Type
Lithium ion, Proprietary Lithium
Audio Input
None
Audio Output
None
Compatibility
Mac, PC
Connectivity Interfaces
1 x USB - 4 pin USB Type A, 1 x infrared - IrDA, 1 x serial - RS-232 - 25 pin D-Sub (DB-25), 1 x serial - RS-232 - 9 pin D-Sub (DB-9)
Software Included
Address Book, Addressbuch, Adresses, Agenda, Aufgabenliste, Bloc de notas, Bloc-notes, Calculador, Calculator, Calculatrice, Date Book, Direcciones, Expense, Games, Gastos, HotSync, Jeux, Juegos, Kalender, Kosten, Memo Pad, Merkzettel, Palm MacPac 2, Rechner, Security, Seguridad, Sicherheit, Spiele, Tareas, To Do List
Wireless Connectivity
IrDA


Dimensions
Dimensions (WxDxH)
3.14 in. x 0.39 in. x 4.52 in.


Miscellaneous
Color
Gray
Supported interface languages
English / Asia Pacific, English / Europe, English / United Kingdom, English / United States, French / France, German / Germany, Spanish / Latin America, Spanish / Spain