Linksys PCMCIA 10/100 Fast Ethernet LAN PC Card PCMPC100 Kit in Box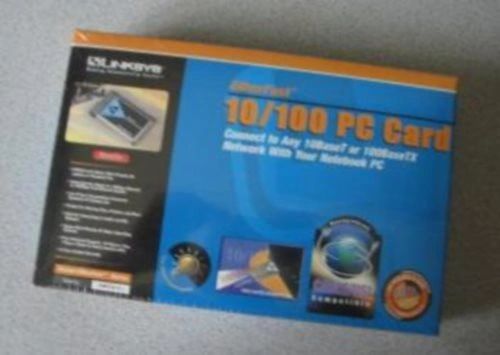 Linksys PCMCIA 10/100 Fast Ethernet LAN PC Card PCMPC100 Kit in Box
Wonderfully fast and user-friendly high-speed 10/100 PCMCIA LAN adapter. This item is new in an open retail box.
Set up your laptop for broadband internet access with this professional-grade ethernet card. Your laptop does NOT need to have CardBus slots to use this card, it works in CardBus or non-CardBus PCMCIA slots!
Drivers for this card can be downloaded from the Linksys web site.

Product Description
The EtherFast® 10/100 PC Card will connect your notebook computer to a 10BaseT or 100BaseTX network in just minutes! Ready to run in both half and full duplex modes, the EtherFast® 10/100 PC Card supports speeds of 10Mbps, 20Mbps, 100Mbps, or a whopping 200Mbps. Designed for heavy use at the office or on the road, the card adjusts its speed and duplex to almost any 10BaseT or 100BaseTX network automatically -- just plug in your cabling and go!
Convenient. Built to Last.
Housed in an road-tested stainless steel shell, the EtherFast® 10/100 PC Card includes a 32KB buffer for the fastest file transfers around, low voltage operation that's perfect for energy-sensitive notebooks, hot swap compatibility, and advanced error correction. With its 16-bit architecture, plug-and-play compatibility, complete software suite, and free technical support, there's no faster way to get networked -- the EtherFast® 10/100 PC Card makes it easy to surf the Internet, exchange e-mail, share files or printers, retrieve corporate data, enjoy multimedia or videoconferencing, and much more!

Features
Connects Almost Any Notebook PC to 10BaseT or 100BaseTX Networks
Automatically Senses & Negotiates Cabling Duplex, Polarity, and Speed
Hot Swappable -- Insert or Remove from PC Without Powering Down
Compatible with Virtually All PCMCIA-Equipped Portable PCs