HP OmniBook 900 Ultraportable Laptop Notebook 12.1" P2-300 5GB Windows 98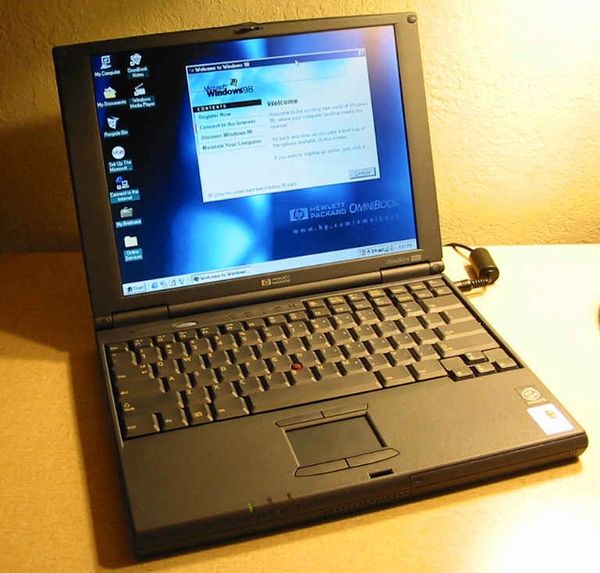 HP OmniBook 900 Ultraportable Laptop Notebook 12.1" P2-300 5GB Windows 98
Description:
Vintage OmniBook 900 ultraportable notebook with a number of top-of-the-line features:
Small size (roughly the dimensions of a sheet of paper) and solid construction allow you to pop it in your backpack or bookbag, or carry it around like another book in your stack.
Despite its size, it's got near full size keys with a solid feel and plenty of key travel.
Reknowned HP engineering and attention to detail, and the OmniBooks are their top of the line notebook series.
Both touchpad and trackpoint pointing devices.
What you get:
HP OmniBook 900, 300 MHz (specs below)
32 MB installed RAM memory

5 GB Hard Disk Drive
HP Lithium-Ion battery, tested good
HP Slimline AC/DC Adapter
Windows 98 from the recovery CD
comes installed on this machine (including OmniBook-specific drivers and HP User Tools).


Standard features of the OmniBook 900 include:
Weight:

Notebook: 4.0 lb (1.79 kg) or 4.3 lb (1.89 kg), Power adapter and cord: 0.91 lb (0.41 kg)
Dimensions:
11.8 × 8.8 × 1.26 in (30 × 22.5 × 3.2 cm)

CPU:
Intel Mobile Pentium II Processor
Cache:
Display:
12.1" TFT SVGA (800x600) diplay
Graphics:
256-bit NeoMagic graphics controller with AGP and 2.5 MB of internal video RAM
MPEG-2 hardware acceleration
Zoomed Video support in lower slot
Dual-display capability under Windows 98
External display: 640 × 480/16 million colors/85 Hz, 800 × 600/16 million colors/85 Hz, 1024 × 768/16 million colors/85 Hz, 1280 × 1024/65K colors/60 Hz
Memory:
32, 64, or 96 MB of SDRAM standard Expandable to 160 MB using optional HP RAM expansion modules
Pointing Devices:
Audio:
16-bit Sound Blaster Pro–compatible stereo sound
Stereo sound via headphone-out, line-in, microphone-in ports
one internal speaker
Ports:
Universal Serial Bus (USB) port
Serial port: 9-pin, 115,200-bps
Parallel port: 25-pin bidirectional ECP and EPP
4-Mbps IrDA-compliant infrared port
PS/2 keyboard/mouse port
Headphone-out, line-in, microphone-in ports
Video out
240-pin PCI connector for docking
Special FDD/IDE interface for external module bay that accommodates:

Standard 3.5-inch, 1.44-MB floppy disk drive module
Optional 24X maximum-speed CD-ROM drive module
Optional LS-120 Super Disk Drive module
Optional 4X maximum-speed DVD-ROM drive module
Optional Zip drive module
Optional 12- or 18-GB second hard drive module
Batteries are tested as follows: they are allowed to charge fully, then the laptop is unplugged and left on battery power for five minutes. If the battery meter shows 75% full or more after that time, they are deemed "good". Please be aware batteries are a maintenance item and have a finite lifespan.