HP OmniBook 800CT 5/166 Mini Laptop with Silent SSD Windows 95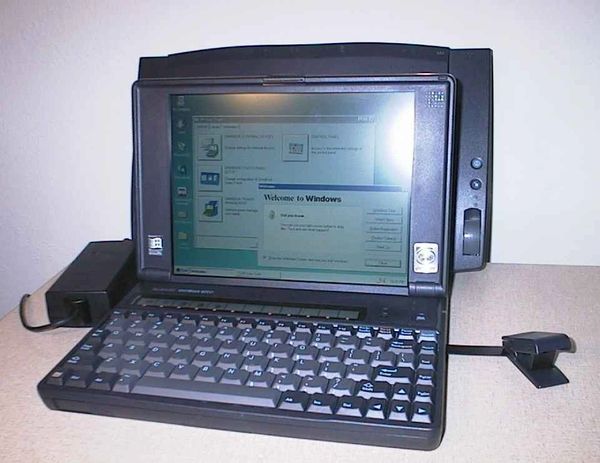 HP OmniBook 800CT 5/166 Mini Laptop with Silent SSD Windows 95
This is a unique vintage notebook with a number of neat features:
Tiny size (roughly the footprint of a sheet of A4 paper) and solid construction allow you to pop it in your backpack or bookbag, or carry it around like another book in your stack.
Despite its size, it's got near full size keys with a solid feel and plenty of key travel! Very unusual for a notebook of this size.
Bright, crisp TFT display allows viewing from almost any angle unlike cheaper DSTN or HPA displays (found on entry-level notebooks), which require your eyes to be at the perfect angle with the screen.
Reknowned HP engineering and attention to detail, and the OmniBooks are their top of the line notebook series. For example, the display, the thing that normally gets destroyed on notebooks, has a very solid construction that gives you confidence that it will withstand serious abuse. There doesn't seem to be any way to break it short of dropping it off of a building.
Last, how could one fail to mention the unique pop-out mouse! It is much closer to a real mouse than any other laptop pointing device. Touchpads and trackpoints simply don't compare. It has no ball (the sensor is internal to the laptop), so it works on any surface (even suspended in mid-air)!
Included with sale:
HP OmniBook 800CT 5/166 (specs below)
HP 16MB RAM expansion module, for 32MB total RAM
2GB Solid State Drive (SSD) - this makes the fanless 800CT a silent computer
HP Lithium-Ion battery, tested good
HP Slimline AC/DC Adapter
Copy of HP Product Recovery CD-ROM
Standard features of the OmniBook 800CT 5/166 (F1360A) include:
Tiny (7.28" x 11.12" x 1.57") and light (3.9 lb.)
166 MHz Intel Mobile Pentium MMX Processor
256 KB external L2 cache
10.4" TFT SVGA (800x600) diplay - crisp & bright!
NeoMagic NM2092 display adapter via PCI bus, 1MB VRAM, MPEG software support, Zoomed Video enabled
- - supports external display at 1024x768x256 at 76 Hz, 800x600x64k at 85 Hz
16MB Standard EDO DRAM, expandable to 80 MB
Pop-out mouse, also called "the paw"! - see photo below
Advanced Power Management with Instant-On
16-bit Sound Blaster Pro compatible stereo sound system
Input/Output (I/O) ports:

9-pin, 115 kbps serial port
25-pin EPP/ECP parallel port
SVGA-out (up to 1024 x 768 x 256)
4 Mbps Fast Infrared transceiver
Docking system connector
Floppy drive port
Headphone/stereo-out port
Stereo-in and microphone ports
Two Type II PCMCIA slots - or use as one Type III slot, CardBus-ready
Statement of condition:
This laptop has been cleaned and tested. The screen is clear and bright, and free from scratches or dead pixels. The hard drive has been scandisked and there are no bad sectors. The keyboard and mouse work perfectly. The external cosmetic appearance of this laptop is great, there may be minor scuffs from use.
Batteries are tested as follows: they are allowed to charge fully, then the laptop is unplugged and left on battery power for five minutes. If the battery meter shows 75% full or more after that time, they are deemed "good". Please be aware batteries are a maintenance item and have a finite lifespan.