TrueMobile Slim Portable External PCMCIA CD-ROM Drive Kit in Retail Box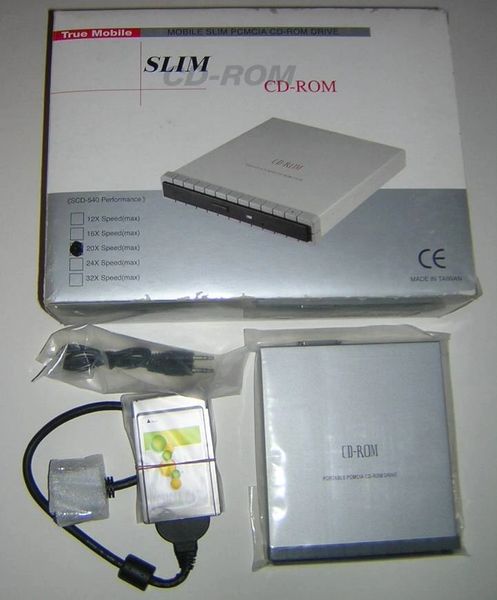 TrueMobile Slim Portable External PCMCIA CD-ROM Drive Kit in Retail Box
External portable CD-ROM drive kit, new old stock in box. Attach this drive to your laptop via the included PCMCIA card and cable.
Kit includes:

CD-ROM drive
PCMCIA interface card (16-bit type II PC Card) with cable

audio interface cable
software installation diskette with drivers for DOS, Windows 95/98, Windows NT.
Features and Performance
Data transfer rate
3,000 kb/sec (20x MAX)
Average random access time
130msec average
Full stroke access time
300msec average
Date buffer capacity
512kb
Interface
Compiles with PCMCIA 2.1 standard
Support Operation System
DOS/WINDOWS 3.x , WINDOWS 95 , WINDOWS 98 , OS/2 warp , WINDOWS NT
Power source
+5v from PCMCIA slot or AC adapter
Applicable discs
CD DA , CD-ROM MODE 1 & MODE 2 , CD-ROM XA MODE 2 (Form 1 & Form 2) Photo CD(single/multi-session) , Enhanced CD
PCMCIA Interface
TYPE II interface card
Disc clamp system
Ball clamp
Audio Output
Line output during audio play at normal speed(1x)
Volume
Software volume using the ATAPI command
Retail Package Includes
True Mobile SCD-540 24X CD-ROM Drive
User Manual and Drive Disk
PCMCIA Interface Card and Cable
Dimensions
154 x 137 x 22 (LWH)
Weight
525g